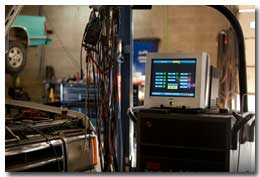 What is a Tune-up? How often should I do a Tune-up? It used to be that we would put in spark plugs once a year. We would replace the ignition points and condenser, adjust the dwell and timing and maybe a few other things. But NOT ANY MORE!
Today's vehicles require a lot less parts and more cleaning and inspection of things like Mass Air Flow Sensors, cleaning the Fuel Injection System and the like. With spark plugs lasting anywhere from 30000 to 100000 miles, we must be careful with using the word Tune-up!
Here is an explanation that will interest you:
Engine tuning is the adjustment, modification or design of internal combustion engines to yield optimal performance, to increase an engine's power output, economy, or durability. It has a long history, almost as long as the development of the car in general, originating with the development of early racing cars, and later, with the post-war hot-rod movement. Tuning can describe a wide variety of adjustments and modifications, from the routine adjustment of the carburetor and ignition system to significant engine overhauls. At the other end of the scale, performance tuning of an engine can involve revisiting some of the design decisions taken at quite an early stage in the development of the engine.
Setting the idle speed, fuel/air mixture, carburetor balance, spark plug and distributor point gaps, and ignition timing were regular maintenance items for all older engines and the final but essential steps in setting up a racing engine. On modern engines, equipped with electronic ignition and fuel injection, some or all of these tasks are automated, although they still require periodic calibration.
There you have it! At Auto Werks of Colorado Springs our ASE technicians can inspect the vehicle, whether it has old or new technology and advise you of what it needs. We have different tools to test and diagnose your concerns. Give us a call! Let us know what we can do for you