BOUNCY, BOUNCY! I am darting all over the place! What is that vibration?
Sound all too familiar? Well, we at Auto Werks of Colorado Springs can help you with your Suspension and Steering problems!
There are a lot of moving parts in your suspension and steering systems. They really work hand in hand to give you a comfortable and safe driving experience.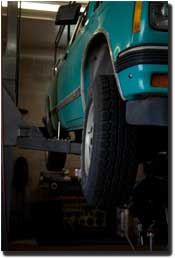 The Suspension system consists of upper and lower Ball Joints, Upper and Lower Control Arms and Bushings, Springs (both leaf and coil), Sway Bar links and bushings, McPherson Strut suspension systems, Air bag systems, shock absorbers and anything else that could be connected to the suspension of the vehicle. The computer is now used to verify and guarantee a comfortable ride in certain vehicles.
The Steering system consists of your steering wheel and column, a gear box or rack assembly, either manual or power assist. It is connected to the wheel by drag links, idler arms, pitman arms, inner and outer tie rod ends and the like.
There are four major angles we are concerned about in your vehicle. Toe-in, Toe-out, Camber, Caster and Angle Inclination. All of these items cause an effect and can be affected by something. A part wearing out, a severe bump in the road, can cause the angles to change. On some vehicles the rear suspension needs to be aligned also.
At Auto Werks of Colorado Springs our ASE certified technicians can diagnose your suspension and steering problems and give you a detailed description of what needs to be done. Give us a call at(719) 528-6511 or Make an Appointment Online!