That's right! Auto Werks has 2 Specials!
Save up to $50 on your Favorite Apparel and Merchandise from Fanatics.com Whether you're traveling to a local scrimmage or the big game, now's the perfect time to get your brakes checked so you don't miss out on the action. Now through October 31st, you can save up to $50 on your favorite sports team apparel and merchandise from Fanatics.com with any qualifying purchase of NAPA Brakes, during the Get in the Game promotion. No matter where you're celebrating or what you drive, trust the most dependable brakes available. NAPA Brakes!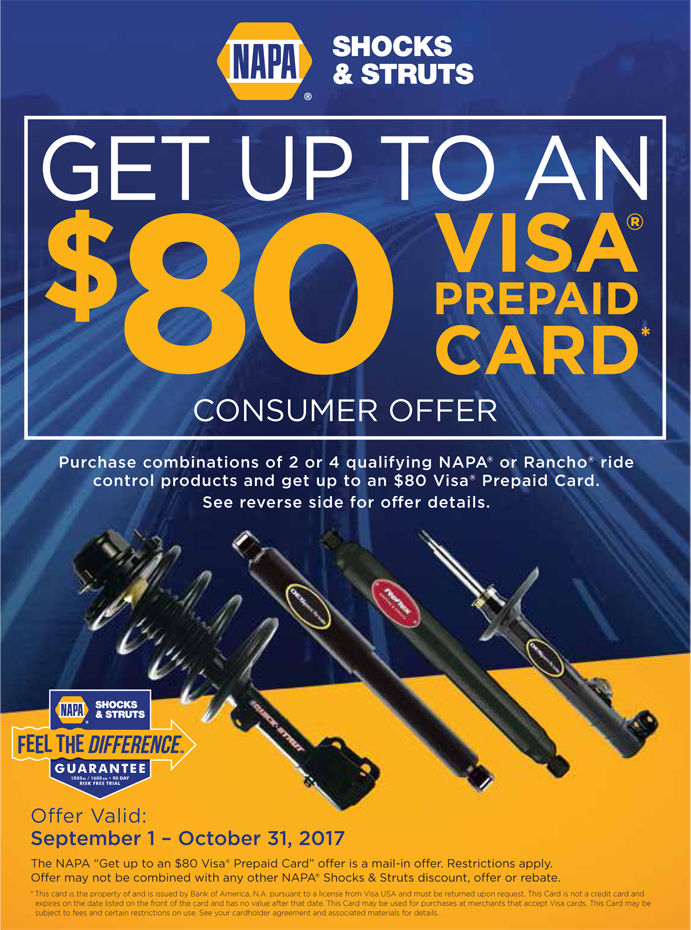 Look at your car's odometer, does it have more than 50,000 miles on it? If so, it could be time to replace your shocks. Most people don't know that your shocks wear over time. That's why it's important to have your shocks inspected at 50,000 miles, but to regularly inspect all the components on your vehicle's stopping and steering systems. And now through October 31st , purchase qualifying NAPA shocks or struts and get a Prepaid Card worth up to $80 by mail-in-offer. Restrictions apply. Actual mileage may vary depending on driver ability, vehicle type and the type of driving and road conditions.
To find out more about both these offers, visit Auto Werks of Colorado Springs at 4716 Chromium Drive, Colorado Springs, CO 80918 for additional details.
This special is valid from September 1 through October 31, 2017.
Print this coupon by clicking on the image, or, right button click and select Save Picture As.