Your car won't start or your car started and all the electrical components began to fade away while driving. The lights start to dim, radio stops playing, or the heater stops heating. This could possibly caused by a bad battery, failing alternator, or some other electrical issues.
Two of the most important mechanisms of your cars electrical system are the battery and the alternator.Auto Werks Electrical Diagnostics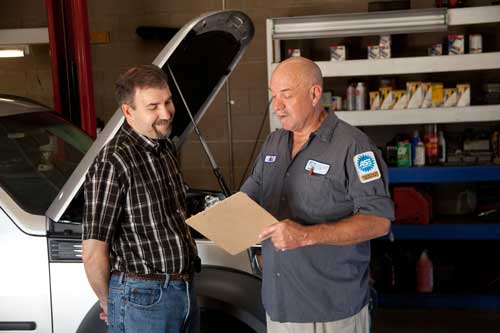 A car's battery is a storage piece of equipment used to start the engine. The battery helps activate and control the electrical accessories installed on your car. It is composed of six cells of positive and negative lead plates, divided by insulators and contained in an electrolyte solution; a mixture of sulfuric acid and water. Each cell generates 2.1 volts producing a total of 12.6 volts. A battery contains stored energy, not produced energy.
The average life of a battery is anywhere from 3-5 years; depending on the environment you live in. Those areas with extreme heat or cold temperatures can cause the battery to fail earlier.
The car alternator produces AC current which is converted to DC current for the battery to use to maintain its charge. This provides the voltage needed to run the electrical accessories like the interior and exterior lights, power windows, windshield wipers, radio, the instrument panel, and the ignition system.
The alternator does not continuously generate electricity. It cycles on and off depending on the demand of the accessories and systems in the car. The alternator is usually charging half of the time. Sometimes the alternator can fail due to extreme demands or mechanical problems.
Auto Werks can easily diagnose your electrical issues using state-of-the-art diagnostic equipment. We use Digital Volt Ohm Meters, Low Amp Probes, Stand alone Battery and Starter Tester and various hand held tools,
We can narrow down potential causes for problems, stemming from the battery, the alternator or some other electrical issue such as wiring, gauges, relays, sensors and solenoids. We use wiring diagrams for everything and every model of vehicle. Vehicles today require knowing all about a circuit and what it does before you start testing it. There are just to many different circuits to look at which is why you need a professional.
Feel free to contact Auto Werks to discuss your auto service needs. You can give us a call at (719) 528-6511, fill out our Contact Autowerks form, or, Make an Appointment Online!
Our master technicians can evaluate the problem and provide an honest accurate estimate for repairs.