Your drivetrain consists of a transmission which is either a manual, automatic or variable shift. A clutch is used with a manual transmission and a Torque Converter is used with an automatic.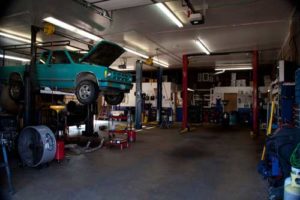 You can have a front wheel drive, four wheel drive, All wheel drive or a combination of all of them. To get the power to the ground, half-shafts and driveshafts are used and if you have a four wheel or all wheel drive vehicle a transfer case is used.
In all vehicles, a differential is needed. This unit transfers the power to the ground. In a rear wheel drive of front wheel drive vehicle only, just one is used. In a four wheel or all wheel drive vehicle, there is a differential in the rear as well as the front.
In a manual transmission vehicle, a clutch is used to transfer power to the transmission. It consists of a Pressure Plate, Throw-out bearing, clutch disc and possibly a Pilot Bearing. The flywheel is another part of the system and is usually resurfaced when the clutch is replaced.
Both automatic and manual transmissions require maintenance to extend the life of the transmission and reduce premature wear and breakdown.
Like the oil in your vehicle, the transmission fluid in your transmission can become contaminated with dirt, dust and debris. As the transmission fluid ages, viscosity breaks down and contaminates build up, leaving your vehicle's transmission vulnerable.
Some signs of wear on a transmission are:
Your car won't shift into gear
Your transmission slips when you shift into gea
A burning smell of the fluid
Most of us have our automatic or manual transmission serviced every 30,000 miles under normal conditions. You might think about doing it a bit more often if you use your vehicle in hot climates, dirty off-road conditions or if it is used to tow frequently.
If you want Preventative Maintenance or are now having manual or automatic transmission trouble, stop by Auto Werks of Colorado Springs. Our experienced ASE certified technicians can help you troubleshoot transmission, differential and transfer case problems to accurately diagnose the problem and get you the repair you need. You can give us a call at (719) 528-6511, fill out our Contact Autowerks form, or, Make an Appointment Online!
We pride ourselves on getting the job done right the first time. Our reputation is your best guarantee!